One of the biggest problems us Chronically ill face is the lack of understanding from those who don't suffer the same afflictions. Which, I get it. You can't understand something like this. Something that you've never been experienced before and sounds so alien from your healthy person life.
I feel one of the best ways to describe it is through Christine Miserandino's Spoon theory. Unlike the average human being us chronically ill have a limited number of energy reserves or symptom tolerance in a day. And yes technically we can go over those in a day, but if we were to do that then it would leave us with less spoons for the next day or more. Until we were to just completely stop.
Now imagine each daily activity takes away a certain number of these spoons. Even the most simplest of them.
Lets start with getting out of bed. Yes even that takes spoons from us. Now lets think of taking a shower, that can also take a lot of spoons from the Chronically sick. Even more if we were to wash our hair, or shave at the same time.
Now you've got the gist of things you can see that even after completing tasks that are mindless or even refreshing to the average person we end up severely compromised.
When you have a chronic illness you are constantly fighting. Constantly pushing through relentless pain and fatigue. Not to mention the whole host of other symptoms that we can sometimes face with a chronic illness.
Yet most of us look perfectly healthy and able on the outside but please understand that this is not the case. Our body is fighting a war on the inside which is invisible to everyone looking from the outside.
This is why we may not want to socialise. It's not even that we don't want to. Mentally we probably do. Mentally we are probably bored of feeling physically capable of nothing. But physically we can't do it and if we do it will just continue and heighten our daily suffering.
And we don't want that. We don't want to end up back at our worst for weeks or even months on end when we can prevent it. Most things in life are not worth that. Not atall.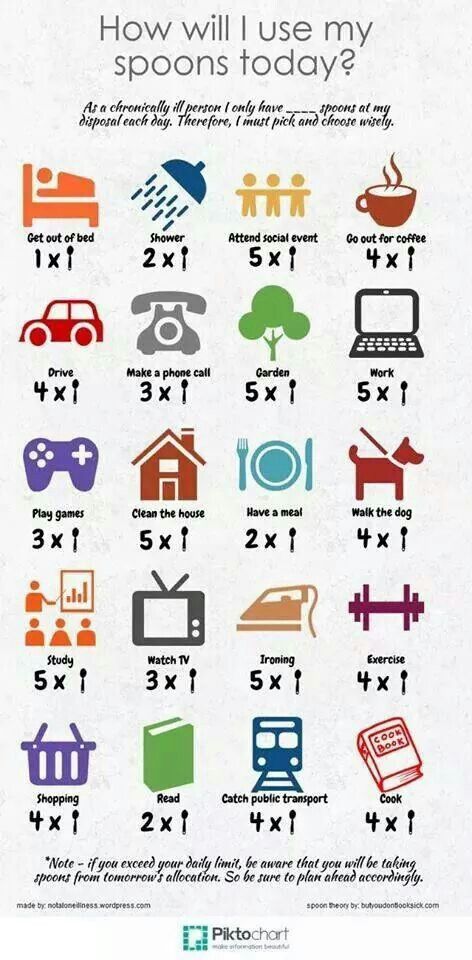 So please try to gain a little understanding before you judge us or frown upon out attitudes or work ethic. If we say no. Please don't take it personally. It's not you. It's that our bodies are fighting a war that you could never understand.
We just don't have the same unlimited number of spoons that the average healthy person has. We have a limited number.